Détails
XM-RSU235BT: Bluetooth & USB & MP3
Caractéristiques:
bluetooth
Port USB
- pour les lecteurs flash - jusqu'à 32 Go
Fente pour carte SD - MicroSD
jusqu'à 32 Go
La lecture de MP3 à partir de clé USB et carte Micro SD
DIN 1 (simple DIN) de la taille d'installation standard avec la profondeur de montage réduite
R D S (Radio Data System) Radio
Radio AM / FM
30 stations préréglées
Front AUX-IN
Illumination:
7 couleurs sélectionnables
(bleu, rouge, vert, turquoise, violet, jaune, blanc)
Large dislay LCD
EQ: rock, pop, classique, jazz
MOSFET 4 x 60 Watt
médias:
Formats: MP3, WMA
USB et Micro SD / MMC
Livraison:
Autoradio
Cadre de montage (gratuitement)
Télécommande avec pile
Câble adaptateur ISO
matériel de montage
Instructions d'installation (Allemand)
Mode d'emploi (en anglais). Le manuel d'utilisateur peut être consultée sur le site Web du fabricant XOMAX.de
Informations complémentaires
| | |
| --- | --- |
| Poids | 0.6970 |
| EAN | 4260182774359 |
| Modell | XM-RSU236BT |
| Shipping Article | 14.90 |
| SKU: | 1235 |
| Tags: | |
Commentaires des clients
Super produit, dans mes attentes, rapide et soigné, je recommande merci
Nadine D.
15 janvier 2017
Produit conforme à la description
Images Du Produit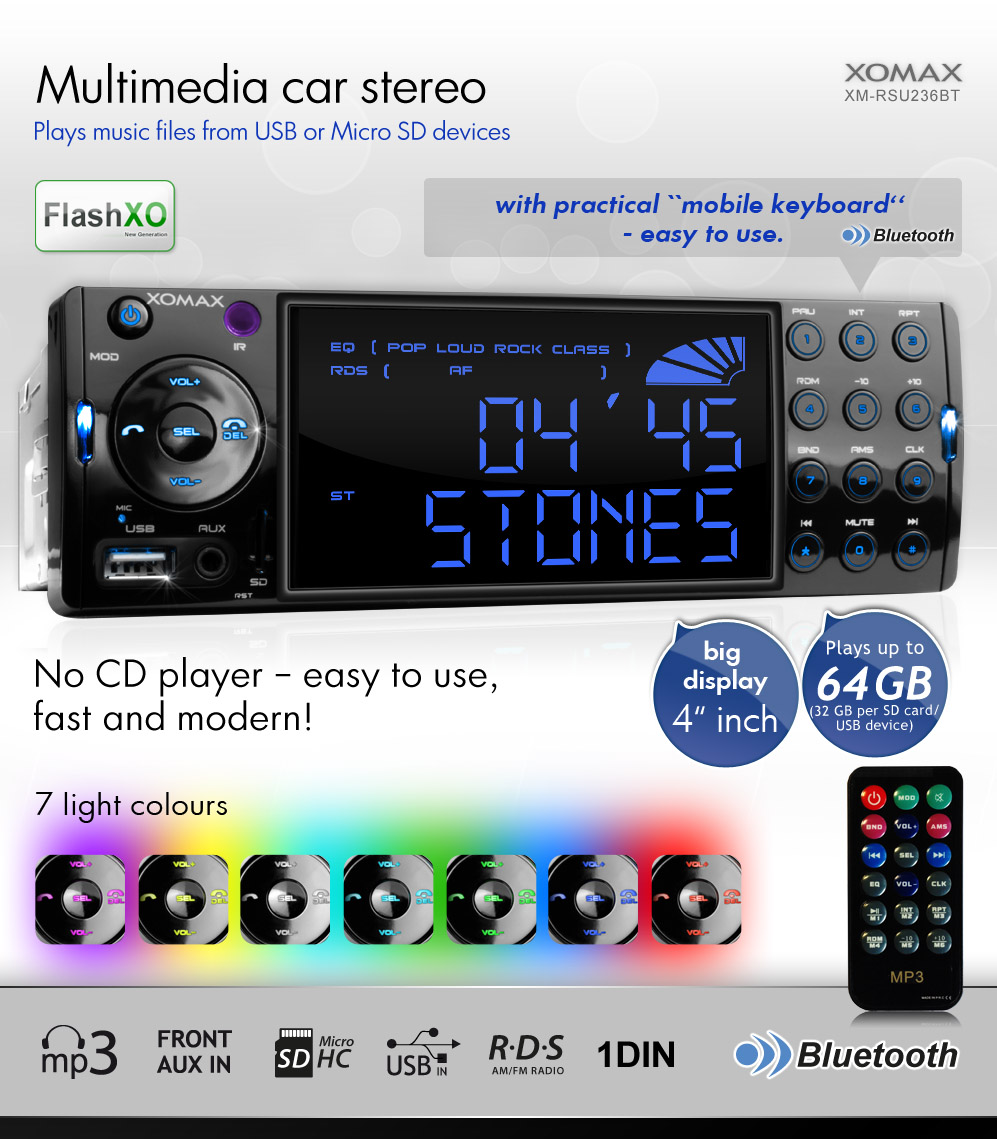 LED Colours 7 LED Colours – blue, red, yellow, purple, pink, green, white, turquoise.

Bluetooth Bluetooth function and music streaming.

Single DIN standard This standard size is suitable for many vehicles.

USB Port 1 x USB port for USB devices: play all your music files.

Slot for MicroSDHC cards: play all your music files, pictures and videos up to 32 GB.

No CD drive This car stereo has no CD drive, therefore it cannot break down!

FRONT AUX IN 1 x FRONT Auxiliary input (jack da 3,5 mm)

MP3 and WMA files can be played from all multimedia devices: USB, SD,

AM/FM Radio Radio Data System. The RDS standard provides useful functions and information. AM/FM Radio with 30 Memory Stations.

Preset equalizer: pop, rock, classical, personalised.

MOSFET 4 x 60 watt 4-channel audio output, maximum power 240 watt.

Free FREE OF CHARGE: single-DIN cage, trim and ISO adapter.

XOMAX XM-RSU236BT: USB and MP3 car stereo - with USB port and SD slot – without CD drive
Elegant Flash XO car stereo. Plays music files from USB or Micro SD devices. No CD player – easy to use, fast and modern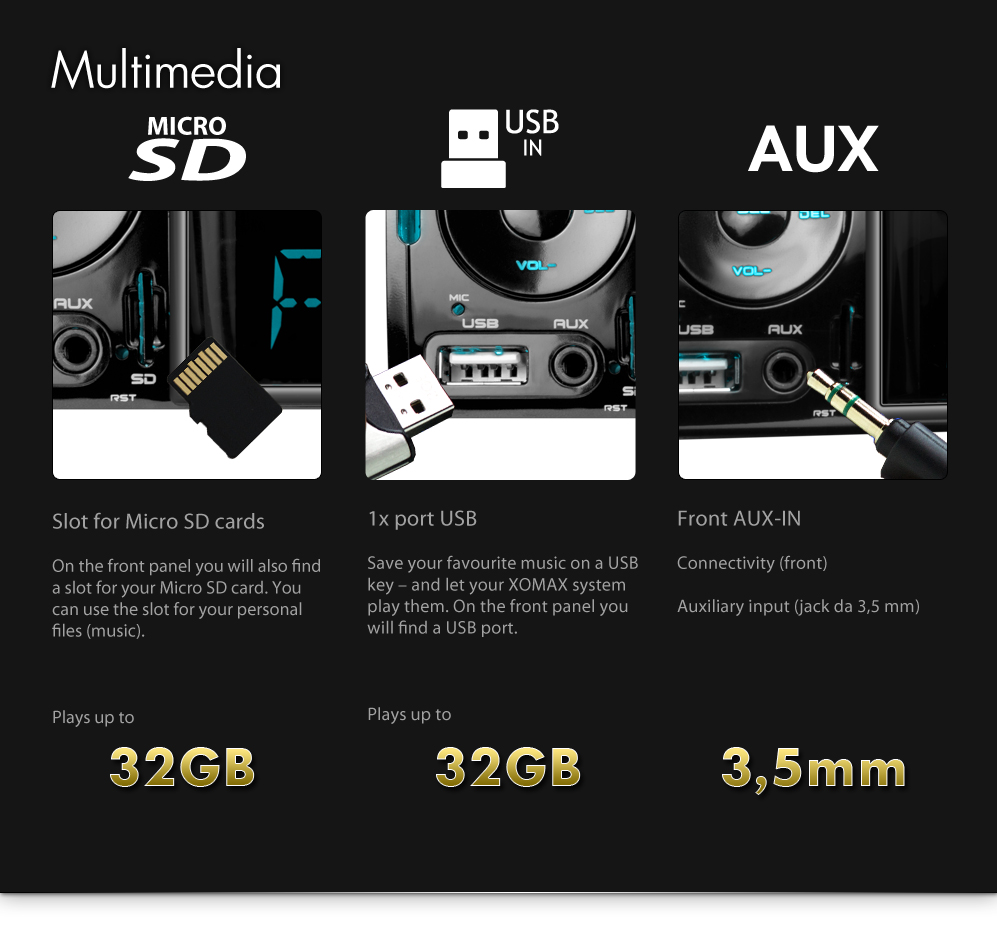 Multimedia - music
USB: On the front panel you will find a USB port, which you can use to read your memory devices.
Micro SD: The Micro SD slot is also located on the front panel.
AUX-IN: Auxiliary input (jack da 3,5 mm)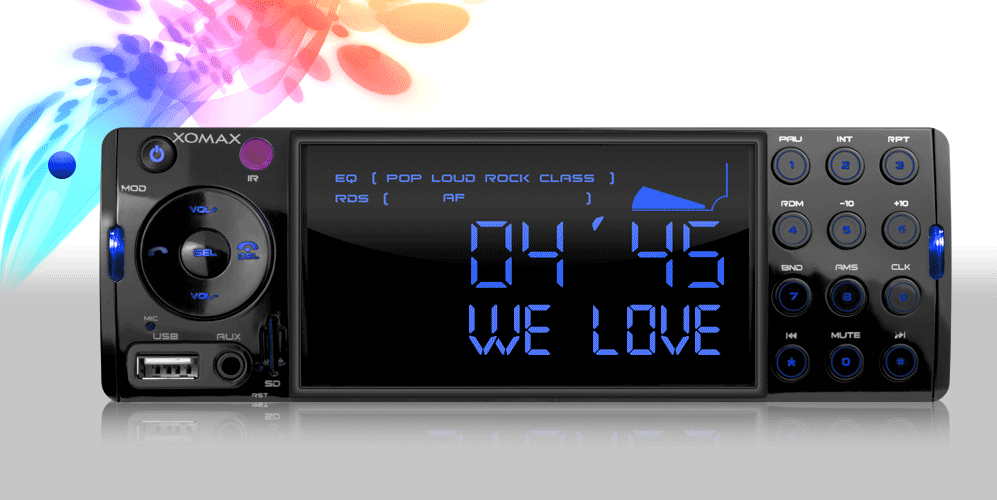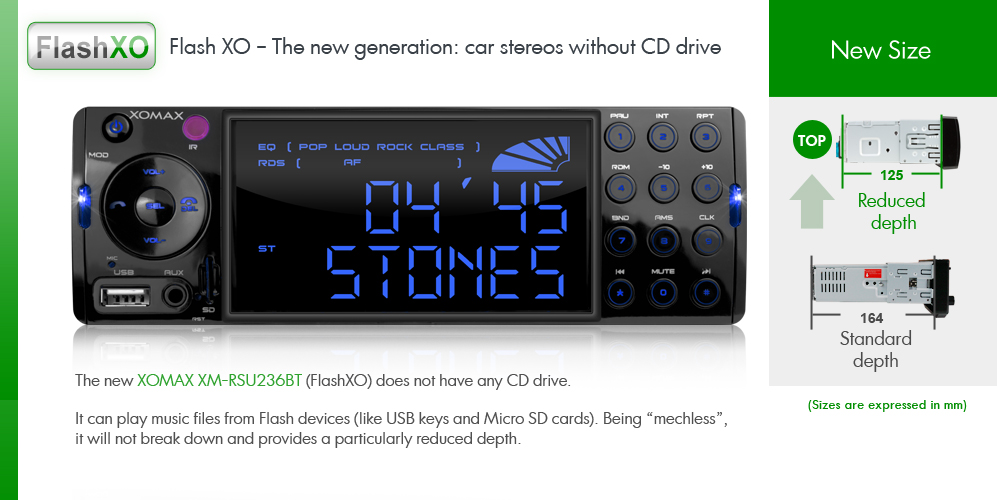 AM/FM stereo radio
Automatic tuner
30 Memory Stations
RDS: Radio Data System
EON: Enhanced Other Networks: receives traffic information
ASM/AF: automatically searches for stronger signals
PTY: news, education, religion, science, varied, documentary, weather, etc.
REG: tunnel/skip, etc.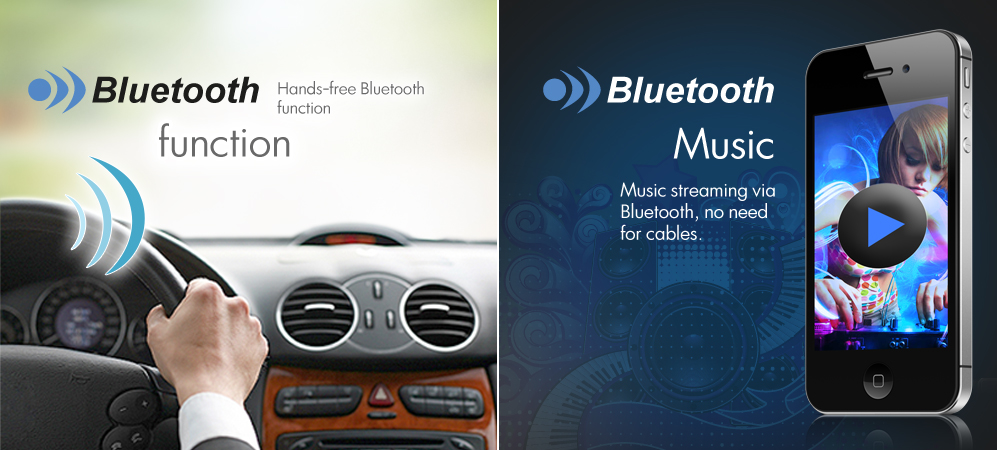 Hands-free Bluetooth function
This hands-free function for your mobile phone enables you to make a phone call using the microphone on the front panel and the loudspeakers in your car. Stay safe and flexible while you drive: just use the Bluetooth to connect your mobile phone with the car stereo! Music streaming via Bluetooth: listen to the music you have stored on your phone or MP3 player through the loudspeakers in your car. No need to copy any file, no need for cables. This car stereo is directly connected to your car's hands-free system. Any time you make or pick up a call, the car stereo goes on "mute".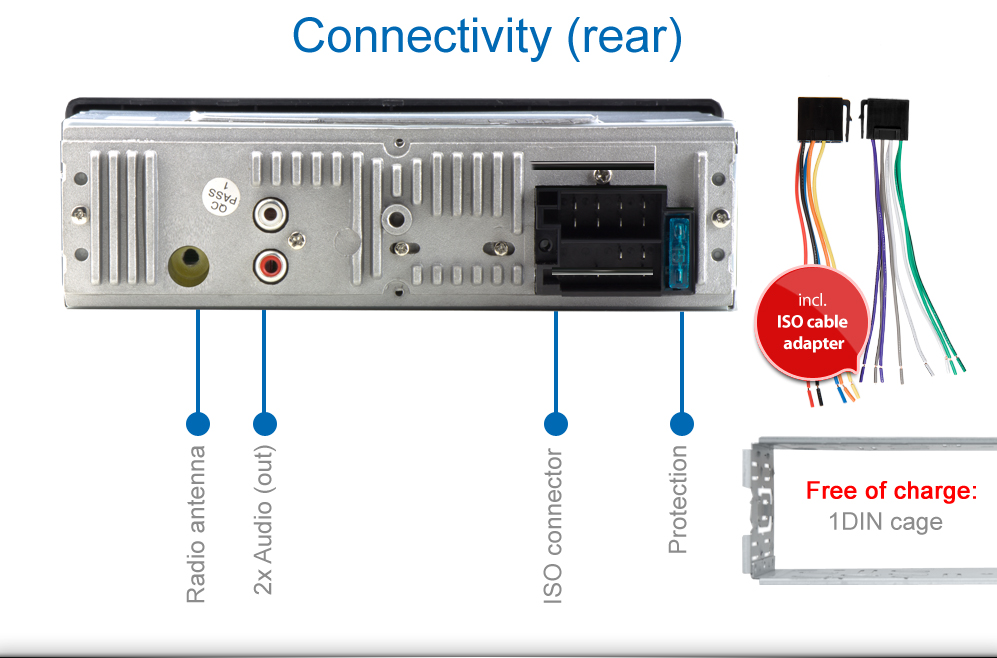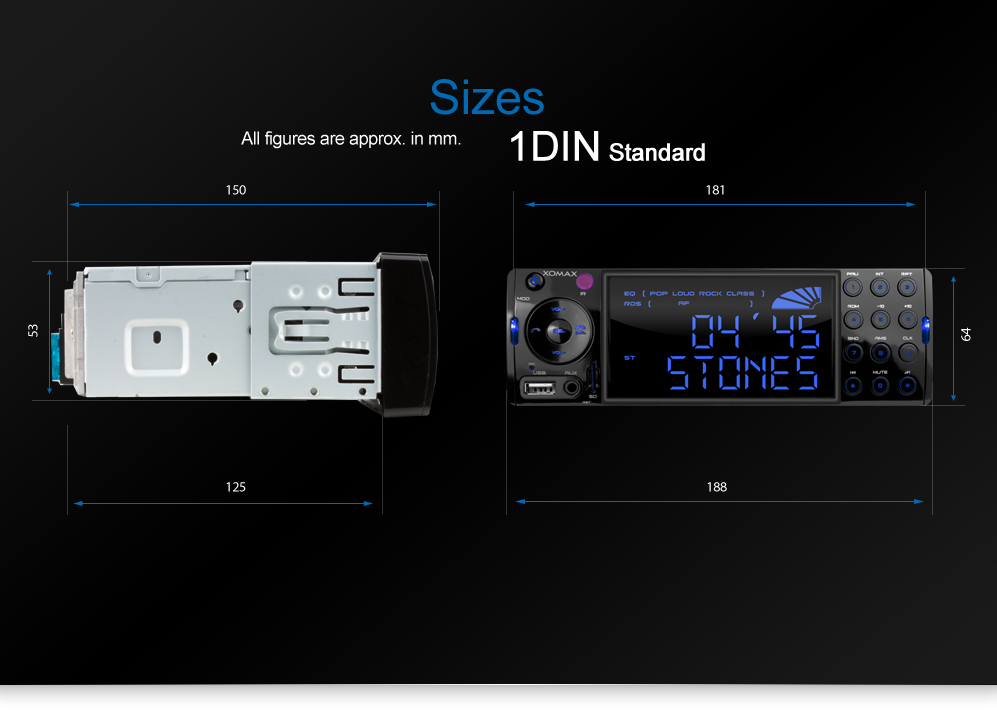 General features

Voltage: 14,4V DC
Impedance: 4 Ohm
Sizes: (LxWxH) 181x125x53 mm ca
Colour: black
LED Colour: blue, red, yellow, purple, pink, green, white, turquoise
Net weight: 0,5 kg ca
Standard DIN1 dimension
Mounting angle: +/- 30°
Typ: LCD Black Mask Display

Supports

Media: USB keys, Micro SD card
Formats:MP3, MP4, WMA

AM tuner

Frequency range: 522-1620 KHz
Sensitivity (-20dB): 25dB
Intermediate frequency: 450 KHz

FM tuner

Frequency range: 87.5-108 MHz
Intermediate frequency: 10.7 MHz
Sensitivity: 15dB
S/N: 60 dB
Stereo separation: 30 dB (1KHz)
Antenna impedance: 75 Ohm

Audio

Frequency range: 20Hz - 20KHz
S/N: 85 dB
Channel separation: 80 dB
4 x 60W MOSFET
Volume control: +/- 8db
Adjustable volume, trebles, basses, fader, balance

Connectivity (rear)

ISO connector
Radio antenna
Audio output - 2x cinch

Connectivity (front)

USB port
Micro SD slot for personal data
AUX-IN